Community service is the lifeline of Exchange, with local-level clubs devoting countless hours and dollars to serving their neighbors every year. Community Service is the Program of Service that most allows Exchange Club Of Albany to identify opportunities within their communities and offer assistance to fill gaps in services. Since the first group of Exchange Club members convened, Exchange has set the bar high for community service involvement!   A few of the   community projects of the Exchange Club of Albany. The Book of Golden Deeds Awards, Alzheimer's Care Takers Organization, The Anchorage, Mission Change,Lord's Pantry, Special Olympics, Fellowship of Christian Athletes, Christmas Under the Oaks Parking, Assit with High School and College game day parking, Bell Ringing with Salvation Army. The Exchange is proud to donate dollars and time for  OUR COMMUNITY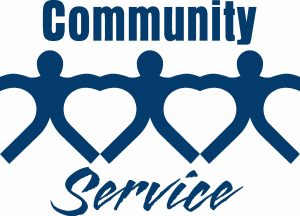 2020 BOOK OF GOLDEN DEEDS AWARD
The Book of Golden Deeds Award originated in 1919 as an Exchange Club Program to recognize men and women whose sacrifice for public good motivated by an innate desire to help others. The award is to honor those individuals who's good deeds might otherwise go unnoticed. Look at our friends and past recipients previously honored.
Our Recipient will be joining the elite group of our fellow citizens who have practiced kindness, helpfulness, and service to others in a quite way in order to make our Community and World a Better Place to Live.
OUR 2020 BOOK OF GOLDEN DEED'S RECIPIENT:
  The Exchange Club of Albany presented the 2020 Book of Golden Deeds Award to Michele Bates known well for her service to the Southwest Georgia community.
Michele Bates received the prestigious award from the Exchange Club for her volunteer efforts in our community. The National Exchange Club's longest running project, the Book of Golden Deeds Award, recognizes dedicated volunteers who give endless hours of their time and talents toward making their communities better places to live.
  Michele Bates, was chosen due to her service in the community and many accolades. As a member and past President of the Junior Woman's Club, Michele had the responsibility for the Lights of Love for the past 20 years. She is a member and past President of the Thronateeska Foundation, the 2014 Honoree and continuing member and past President of Cancer Ties, Make a Wish Foundation Granter with over 25 wishes granted, United Way's Volunteer of the Year in 2008, a Girl Scout leader for 8 years, an Ambassador for the Albany Chamber of Commerce for the last 6 years, volunteer with "Quail Forever" for the past six years, the recipient of the Jefferson Award in 2018 presented by WFXL/Fox31 for her work with "Make a Wish" and "Cancer Ties", a volunteer with Albany Mall Fashion Board for 12 years, a volunteer for the "Back the Blue" run, a volunteer for the "Albany Pink" walk and a volunteer for Relay for Life.
  While doing the above she took care of her family Mart- husband, children-Eric, Sharon, Taylor, and fought and defeated cancer herself. Michele has been employed in the insurance industry over 30 years.
  Barney Knighton Chairman of "Book of Golden Deeds Award", stated it is people like Michele, that make Southwest Georgia an important and viable part of Georgia.
  Honoring a fellow citizen with the Book of Golden Deeds Award is a heartwarming and inspiring act not only for the honoree, but also for the Exchange Club. The Book of Golden Deeds Award exemplifies The National Exchange Club's beliefs.
Exchange Club of Albany
Golden Deeds Recipients
1948-2020
·

1948 DR. W.S. COOK

1949 MR. HUDSON MALONE

1950 MR. W.A. RORER SR.

1951 MR. H.M. MILLS

1952 MR. J.J. CORDELL

1953 MR. J.L. MAYS

1954 MR. H.T. MCINTOSH

1955 MR. WAYMAN G. JONES

1956 MR. JAMES H. GRAY

1957 MR. E.H. KALMON

1958 REV. STAUFFER MOSES

1959 MR. JOE A. MEYER

1960 REV. PHIL DUNFORD

1961 REV. FREDRICK WILSON

1962 MR. H.T. MCCALL

1963 MR. HERBERT P. HALEY

1964 MR. JOHN T. PHILLIPS JR.

1965 MRS. STAUFFER MOSES

1966 MRS.WHITFIELD GUNNELS

1967 NO AWARD GIVEN

1968 MRS. LOUISE WHITING

1969 MR. ROYACE B. HINSON

1970 MR. LAMAR W. GROSS

1971 MR. D.L. JONES

1972 MR. A.L. TIPTON

1973 MRS. WILLIE G. BAKER

1974 MRS. ANGELINE D. LANIER

1975 MR. DONALD WAKEFORD

1976 MRS. J.G. MARBURY

1977 MR. FRANK SUMNER

1978 MR. C.D. MCKNIGHT

1979 MRS BOBBIE CARTER

1980 MR. HENRY DUGGAN

1981 MRS. MARY FOGARTY

1982 MRS. PEGGY GUILLEBEAU

1983 MR. R.H. WARREN III

1984 MRS EDITH KNOWLES

1985 MR. EDMUND LANDAU

1986 MR. LAMAR CLYATT

1987 MR. SPENCER WALDEN JR.

1988 MR. C.B. PRITCHETT JR

1989 MR. MARVIN C. LORIG

1990 DR. GREY O. RAWLS

1991 MRS. FREDDIE COLEMAN

1992 DR, PHILLIP ROBERTS

1993 MRS. REBA STEWART

1994 MR. WILLIAM MILLS

1995 MR. A.E. HUFF

1996 MRS. RUTH J. TENHAGEN

1997 MR. A.J. NOBLES

1998 MR. DERMONT HEDRICK

1999 MRS. CAROL HAWK

2000 MRS. DEBORAH MARSH

2001 DR. CHARLES M. HOLMAN

2002 MR. WILLIAM D. LANIER

2003 MR. BUTCH GRIFFIN

2004 MR. SILAS K. BARNES

2005 MR. ROSS POWELL

2006 MR FELIX G. MARBURY JR.

2007 MR. CHARLIS FREEMAN

2008 MRS SUSAN GREEN

2009 MR. BRADY LEE

2010 MR. MELVIN CHAPMAN

2011 TODD & LA DONNA URICH

2012 MRS GWEN KNIGHT

2013 Mr. CHARLIE PHILLIPS

2014 MR. ART SHOEMAKER

2015 RICK &JANE RUNGE

2016 MR. ROY DOWNS

2017 MR THOMAS GIERYIC

2018 MR KERRY REEVES

2019 MR WALLACE BONNER

2020 MRS MICHELE BATES