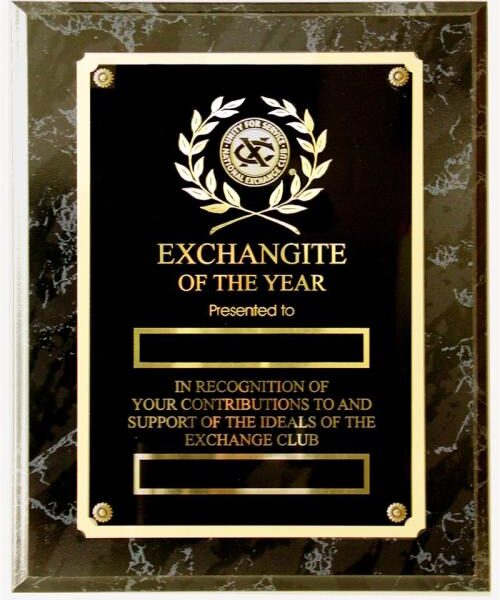 Exchange Member of The Year
Philip Henry
2021
The Exchange Club of Albany presents the highest award an Exchange Club member can receive: Exchange Member of the Year. The award recognizes outstanding service and club activity through participation in recruitment efforts, club leadership positions, major club committees, projects or fundraisers. The award also seeks to recognize individuals who roll up their sleeves to volunteer and have a positive attitude, not only in the club environment, but also in the community.
 The 2021 recipient of Exchange Club of Albany Member of the Year, graduated from Columbus, Georgia School System in 1966. He served active duty in the Navy Naval Air Station and awarded the National Defense Service Medal. After is active duty from the Navy, he continued to serve his country in the Naval Reserve. He graduated from Valdosta State in 1980 with a Master's in Education. He retired as an instructor with Albany Technical College. His hobbies include hunting, fishing, and repairing, building anything he sets his mind on. He always a project or two in the works. Philip is very proud of his son Brad and his wife Amy, and daughter Allison and Her husband Matt.  But the Joy of his life are his four grandchildren Reid, Brooklyn, Bennett, and Blair.
 Philip Henry was presented The Exchange Club Member of the Year for 2021. Phillip has been a member of the Albany Exchange Club for over Thirty-two years. He is very active with the Exchange Club and Southwest Georgia Regional Fair (Home of the Exchange Club} and many of the fundraisers held to raise funds to donate to various Non-Profits in the area. Phillip is always willing to help with any repairs and improvements at the Fair Grounds but also helps people with many projects. Phillip is a dedicated Exchange Member and supports our Projects of Service including Prevention of Child Abuse, Americanism, Youth, and Community. Thank You Phillip for your service to the Community and Exchange.
| | |
| --- | --- |
| 1950…..W. PAUL CARSON | 1991…..WALTER B. RUSHTON |
| | |
| 1951…..R. W. HUTCHINSON | 1992…..SHELLY R. DAVIS |
| | |
| 1952…..R. E. "RAT" RILEY | 1993…..DONALD L. BRYAN |
| | |
| 1953…..JUDSON ARTHUR | 1994…..BILL BANKS |
| | |
| 1954…..DAVID S. HAUTMAN JR | 1995…..BILL ALFORD |
| | |
| 1955…..W. C. LAYTON | 1996…..BUZZ CALEK |
| | |
| 1956…..JAMES D. REEVES | 1997…..H.JOE NICHOLS |
| | |
| 1957…..CHARLES E. FOSTER JR | 1998…..H. JOE "SKIP" NICHOLS, Jr |
| | |
| 1958…..E. E. MOODY | 1999…..MAX LADSON |
| | |
| 1959…..C. T. POPE JR | 2000…..JIMMY NESBITT |
| | |
| 1960…..H. T. McCALL | 2001…..JACK BRYANT |
| | |
| 1961…..WILLIAM H. BUNTIN | 2002…..JIM ADKISON |
| | |
| 1962…..PHILLIP WIGGINS | 2003…..FORREST RUSSELL JR |
| | |
| 1963…..MARVIN LORIG | 2004…..LARRY SCULLEY |
| | |
| 1964…..INMAN OWENS | 2005…..BRIDGES SIMMONS |
| | |
| 1965…..JAMES E. HALL | 2006…..JACK CLAY |
| | |
| 1966…..WILLIAM E. McEACHERN | 2007…..RAY HINMAN |
| | |
| 1967…..WARNER S. NEWSOME JR | 2008…..JOE BROWN |
| | |
| 1968…..WILLIAM T. MILLS | 2009…..RICHARD PITTS |
| | |
| 1969…..H. I. CARTWRIGHT | 2010…..GARY GRAVES |
| | |
| 1970…..M. LYNN WYLIE | 2011…..GRADY SCEALS |
| | |
| 1971…..LEE LeCLAIR | 2012…..JACK ROBERTS |
| | |
| 1972…..RAY ALLEN | 2013…..RALPH PAUSTIAN |
| | |
| 1973…..WENDELL L. GRIFFIN | 2014.….CHARLIE FREEMAN |
| | |
| 1974…..CYRUS G. DIVINE | 2015.….BEN ADLER  |
| | |
| 1975…..HAROLD M. "PETE" PETERS | 2016…. RIP PERASON |
| | |
| 1976…..CLAYTON POWELL | 2017…. CHUCK KNIGHT |
| | |
| 1977…..W. RALEIGH JOHNSON | 2018…. JIM SMITH |
| | |
| 1978…..MONROE LATHAM | 2019…. CODY JOLLEY |
| | |
| 1979…..WILLIAM J. HAYS | 2020…. GARY KNIGHT |
| | |
| 1980…..LARRY GRIFFIN | 2021…. PHILIP HENRY |
| | |
| 1981…..JOHN E. BOWEN | 2022…. BUDDY HAYNES |
| | |
| 1982…..JAMES H. "BUDDY" RENTZ | 2023…. TERRY BRUMBLEY |
| | |
| 1983…..W. R. "BOB" WHATLEY | |
| | |
| 1984…..HAROLD N. McMILLIAN | |
| | |
| 1985…..BRUCE D. BOGGS | |
| | |
| 1986…..JOE A. COX | |
| | |
| 1987…..LEONARD M. KNIGHT | |
| | |
| 1988…..EUGENE E. CROWE | |
| | |
| 1989…..A. J. NOBLES | |
| | |
| 1990…..MICHAEL J. GARNER | |
| | |